This blog is now closed.
The head of the World Health Organization (WHO) said there were "worrying upward trends" in early epidemics in parts of Africa and central and South America, warning that the "virus will be with us for a long time".
More than 2.5 million people around the world have been diagnosed with the coronavirus. At least 178,000 have died, with the US accounting for about a quarter of all deaths, according to data compiled by Johns Hopkins University.
The United Nations is warning global hunger could double as a result of the coronavirus pandemic, putting 265 million people at risk.
Australia is trying to build support internationally for an independent review of the origins and spread of the coronavirus pandemic.
Here are the latest updates:
Wednesday, April 22
23:59 GMT – New virus timeline in US; California had 2 deaths weeks earlier
Two people with the coronavirus died in California as much as three weeks before the US reported its first death from the disease in late February – a gap that a top health official says may have led to delays in issuing stay-at-home orders in the nation's most populous state.
Dr Sara Cody, health director in Northern California's Santa Clara County, says the deaths were missed because of a scarcity of testing and the federal government's limited guidance on who should be tested.
The infections in the two patients were confirmed by way of autopsy tissue samples that were sent to the Centers for Disease Control and Prevention for analysis. The county coroner's office received the results on Tuesday, officials say.
"If we had had widespread testing earlier and we were able to document the level of transmission in the county, if we had understood then people were already dying, yes, we probably would have acted earlier than we did, which would have meant more time at home," Cody says.
23:52 GMT – Global air traffic could drop by up to 1.2 billion passengers
International air passenger traffic could drop by as many as 1.2 billion travellers, or two-thirds, by September 2020, as the coronavirus pandemic weighs on demand, the United Nations aviation agency says.
The International Civil Aviation Organization (ICAO) estimates that international capacity could drop by as much as two-thirds from previous forecasts for the first three quarters of 2020.
"Europe and the Asia-Pacific will be hardest hit by the capacity and revenue impacts, followed by North America. Similarly, the most substantial reduction in passenger numbers is expected to be in Europe, especially during its peak summer travel season, followed by the Asia-Pacific," it adds.
Coronavirus has led to widespread flight cancellations and grounding of aircraft.
Colombians starve as funds to combat COVID-19 crisis embezzled (2:41)
23:20 GMT – Cuomo outlines plan for 'tracing army' to tame outbreak
Former New York City Mayor Mike Bloomberg will help create a "tracing army" that will help find people infected with the coronavirus and get them into isolation, says Governor Andrew.
New York will coordinate the massive effort with neighbouring New Jersey and Connecticut, accounting for the large number of people who commute into New York City for work. Wide-scale testing, tracing and isolation are considered crucial to taming the outbreak in the hard-hit region.
"It all has to be coordinated. There is no tracing that can work with one jurisdiction," Cuomo says.
The state currently has just 225 tracers with almost 500 more in New York City and its suburbs, and Cuomo says they will start to build a greater force of disease detectives by drawing from 35,000 medical field students at state and city universities, as well as from the state health department and other agencies.
Bloomberg and Bloomberg Philanthropies will provide support to help build and run the program. The philanthropic group also will contribute $10.5m. Bloomberg, in a prepared statement, says the ramped up testing and tracing "will help us drive the virus into a corner".
19:18 GMT – How Jordan is flattening its COVID-19 curve
Experts say preemptive steps and drastic containment measures appear to be paying off in Jordan's fight against coronavirus.
The country has so far recorded 435 cases, including 297 recovers and seven deaths
Read more here.
Jordan's security forces enforced national defence law lockdown orders [[Ali Younes/Al Jazeera]
19:00 GMT – WHO chief says he hopes US reconsiders decision to cut funding
Tedros Adhanom Ghebreyesus, the head of the WHO, said he hoped the Trump administration would reconsider its suspension of funding, but that his main focus was on ending the pandemic and saving lives.
"I hope the freezing of the funding will be reconsidered and the US will once again support WHO's work and continue to save lives," Tedros said.
"I hope the US believes that this an important imvestment, not just to help others but for the US to stay safe also."
Mike Ryan, WHO's top emergencies expert, said that it was important to understand the animal origins of the new coronavirus which jumped the species barrier to humans in China late last year, adding: "It can be breached again."
18:30 GMT – Turkey's coronavirus cases reach 98,674, total deaths 2,376
Turkey recorded 3,083 new coronavirus cases, bringing its total number of infections to 98,674, according to Health Minister Fahrettin Koca.
He added that the death toll rose by 117 to 2,376 in the past 24 hours. A total of 16,477 people have recovered from the virus so far, while the number of tests carried out over the past 24 hours stood at 37,535.
18:20 GMT – Sudden lifting of UK lockdown unlikely: Chief medical officer
Chris Whitty, England's chief medical officer, said it was unrealistic to expect a sudden lifting of all lockdown restrictions, even as ministers say Britain has reached the peak of the coronavirus outbreak.
"If people are hoping that it's suddenly going to move from where we are now, in lockdown, suddenly into 'everything's gone', that is a wholly unrealistic expectation," Whitty told reporters.
"We're going to have to do a lot of things for really quite a long period of time."
17:40 GMT – WHO chief warns 'virus will be with us for a long time'
Tedros said that there were "worrying upward trends" in early epidemics in parts of Africa and central and South America, while also warning that opening up global travel needed to be managed carefully.
"Most countries are still in the early stages of their epidemics and some that were affected early in the pandemic are starting to see a resurgence in cases," he told Geneva journalists in a virtual briefing.
"Make no mistake, we have a long way to go. This virus will be with us for a long time," he added, while noting progress in Western Europe.
Ryan, the WHO's top emergencies expert, warned against opening up global travel too quickly, saying it would require "careful risk management".
French health official warns against easing virus restrictions (2:38)
17:30 GMT – Coronavirus-free Turkmenistan: 'We are not hiding anything'
Turkmenistan, one of the few nations in the world that has reported no cases of the new coronavirus, has insisted its official data is true and it is not hiding anything.
"If there was a single confirmed coronavirus case, we would have immediately informed … the World Health Organization in line with our obligations," Foreign Minister Rashid Meredov told a briefing on Wednesday.
"We are not hiding anything," he added, speaking alongside United Nations officials.
Read more here.
17:20 GMT – Tarawih amid coronavirus: Scholars call for home Ramadan prayers
From Mecca and Jerusalem to London and New York, Muslim scholars across the world have called on people to "stay home and stay safe" this Ramadan, keeping mosques closed and congregational prayers on hold to curb the spread of the coronavirus.
Muslims observe Ramadan by fasting during daylight hours, but also essential to this holy month are gatherings to share meals and take part in communal prayers, known as Tarawih, or night prayers.
"Congregational prayers are a big part of the lives of many Muslims generally, but even more so during Ramadan with Tarawih prayers held daily at many mosques across the country," said Harun Khan, secretary-general of the Muslim Council of Britain (MCB).
Read more here.
17:00 GMT – Pakistan's Imran Khan tests negative for coronavirus
Pakistani Prime Minister Imran Khan has tested negative for the coronavirus, after coming into contact with a philanthropist last week who subsequently tested positive.
"Prime Minister Imran Khan was tested today for SARS-CoV-2 (the virus strain that causes the coronavirus disease 2019 [COVID-19]. The test used was a polymerase chain reaction (PCR). I am happy to report that his test is NEGATIVE," said de facto Pakistani health minister Zafar Mirza in a tweet.
16:50 GMT – UK should see slow decrease in number of coronavirus cases
Britain should expect to see only a slow decrease in cases and deaths from the coronavirus, given the experience of other countries that are further along in their outbreaks, the government's chief medical adviser said.
"Even in those countries which started their epidemic curve earlier than the UK, and which are still ahead, the downward slope from the point where we change is a relatively slow one," Chris Whitty, who is the Chief Medical Officer for England, said at a news conference, referring to a graph showing the seven-day rolling average of deaths in different countries.
"We should anticipate the same situation in the UK," he said. "We should not expect this to be a sudden fall away of cases."
16:40 GMT – US to review if WHO is run the way it should
The United States will assess whether the World Health Organization (WHO) is being run in the way that it should, USAID's Acting Administrator John Barsa said.
The announcement came after President Donald Trump last week suspended US funding for the UN agency, accusing it of failing to adequately obtain and share information on the coronavirus pandemic "in a timely and transparent fashion".
Barsa told a news conference Washington was also looking for alternative partners outside the WHO to carry out work such as on vaccines.
16:25 GMT – Second coronavirus wave poses 'greatest risk' for UK
British Foreign Minister Dominic Raab has warned that a second wave of the coronavirus poses the greatest risk for his country, necessitating another period of lockdown.
"The greatest risk for us now if we eased up on our social distancing rules too soon is that we would risk a second spike in the virus, with all the threats to life that would bring and then the risk of a second lockdown, which would prolong the economic pain that we are all going through," Raab told reporters.
16:10 GMT – Italy's coronavirus death toll climbs by 437 to 25,085
The death toll from the coronavirus in Italy climbed by 437 to 25,085, against 534 the previous day, according to the Civil Protection Agency.
Meanwhile infections increased by 3,370 to 187,327, the third-highest global tally behind the US and Spain.
16:00 GMT – In China, fear of a second wave – and foreigners
As China's coronavirus lockdown recedes, it has left fear in its wake. Foreigners are now on the receiving end of heightened public scrutiny and discrimination as the government says it is trying to prevent importing new cases.
Videos circulating on social media showing Africans in Guangzhou facing forced evictions and testing, provoked a rare open critique from African leaders. The Take hears from non-Chinese residents on life as a foreigner during the pandemic.
15:45 GMT – Canada coronavirus death toll reaches 1,871, total cases 38,932
Canada's death toll from the coronavirus rose to 1,871 from 1,728 the previous day, according to official data posted by the public health agency.
It said the number of infections climbed to 38,932.
15:35 GMT – US believes China failed to disclose pandemic to WHO in timely manner: Pompeo
US Secretary of State Mike Pompeo said his country strongly believes that China's ruling Communist Party failed to report the outbreak of the new coronavirus in a timely manner to the World Health Organization (WHO).
Speaking at a State Department news conference, Pompeo also accused China of failing to report human-to-human transmission of the virus "for a month until it was in every province inside of China".
15:20 GMT – Doctor's note: Why are smokers more vulnerable to coronavirus?
Smoking is one of the leading causes of death in the world, killing more than eight million people a year, according to the World Health Organization (WHO).
Now, it is thought that smoking may also make people more vulnerable to developing serious complications if they catch coronavirus.
In the United Kingdom, the health secretary, Matt Hancock, has said: "It is abundantly clear from the research into previous coronaviruses that smoking makes the impact of a coronavirus worse."
Read more here.
15:00 GMT – In Central African Republic, a colossal struggle against COVID-19
Before dawn in a suburb recovering from war, Fanny Balekossi awakes and heads into the centre of Bangui.
A radio broadcaster specialising in health issues, Balekossi survived years of sectarian fighting in the Central African Republic (CAR) during which her older sister and close friends perished.
Now, she is facing a new struggle to pull her country back from the brink.
Read more here.
14:45 GMT – UK coronavirus death toll reaches 18,100
Britain's daily death toll from the coronavirus rose by 763 to 18,100, down from 828 the previous day, according to the health ministry.
The number of infections reached 133,495, it added.
Thailand virus curbs: Tourist industry hit as visitors stay away (2:32)
14:30 GMT – Mexico social programmes, critical project budgets to increase by $25.6bn
Mexican President Andres Manuel Lopez Obrador said his government will increase the budget for social programmes and critical projects by 622.6 billion Mexican pesos ($25.6 billion) in order to address the coronavirus crisis.
"Efficiency, honesty and austerity will allow us to increase the budget to strengthen social programmes and critical projects by 622.556 billion de pesos", Lopez Obrador said at his regular morning press conference.
14:20 GMT – UK to roll out large-scale contact tracing
British health minister Matt Hancock said on Wednesday the government would bring in large-scale contact tracing once the number of new cases of the coronavirus falls.
"As we have reached the peak, as we bring the number of new cases down, so we will introduce contact tracing at large scale," Hancock told Parliament.
14:10 GMT – Netherlands coronavirus cases rise by 708 to 34,842
The Netherlands has recorded 708 coronavirus cases, taking its total number of infections to 34,842, health authorities said.
Meanwhile, the death toll rose by 138 to 4,054, the Netherlands Institute for Public Health said.
14:00 GMT – France's Macron says time not right for international coronavirus probe
French President Emmanuel Macron told the Australian prime minister that time was not oppurtune for an international investigation into the coronavirus pandemic, saying the urgency was to act in unison before looking for who was at fault, an official said.
"He says he agrees that there have been some issues at the start, but that the urgency is for cohesion, that it is no time to talk about this, while reaffirming the need for transparency for all players, not only the WHO," an Elysee official told Reuters news agency.
Australian Prime Minister Scott Morrison has sought support for an international investigation into the pandemic in phone calls with US President Donald Trump and the German and French leaders overnight, the government said.
13:45 GMT – Swiss death toll surges past 1,200, total cases 28,268
The Swiss death toll from the coronavirus rose to 1,217 from 1,187 the previos day, the country's public health ministry said.
The number of positive tests also increased by 205 to 28,268, it added. The rise in new cases has decelerated in recent days, allowing the government to start relaxing restrictions from April 27.
12:15 GMT – India plans wristband patient surveillance
India plans to manufacture thousands of wristbands that will monitor the locations and temperatures of coronavirus patients, help perform contact tracing and aid health workers delivering essential services.
Broadcast Engineering Consultants India, a government-owned company, will present wristband designs to hospitals and state governments next week and work with Indian start-ups to manufacture them.
George Kuruvilla, the company's chairman, said the wristbands are likely to be rolled out in May.
Indian municipal workers wait to collect essential commodities distributed by the government during lockdown in Hyderabad [Mahesh Kumar A./AP]
12:00 GMT – South African police arrested for flouting lockdown orders
Scores of government officials, including 89 police officers, have been arrested for flouting South Africa's coronavirus regulations, many of them for selling confiscated liquor, the police minister said.
"Altogether 131 people including officials, councillors, health officials, correctional services, have been arrested," Police Minister Bheki Cele told the media in Durban.
More than 20,000 police officers have been deployed along with the military to enforce a five-week lockdown under which alcohol sales are prohibited.
COVID-19 worsens South Sudan hunger crisis
11:50 GMT – Indonesian capital extends restrictions to May 22
The governor of Indonesia's capital Jakarta said he would extend large-scale social restrictions for an extra month to May 22 and also ensure residents prayed at home during the Muslim fasting month of Ramadan which is due to start later this week.
"This year's Ramadan will be different. Usually we pray in the mosque, but this year we will stay at home," Governor Anies Baswedan told a streamed news conference.
While Jakarta has not imposed a full lockdown, Baswedan said he would increase enforcement of the restrictions in place which include limiting public gatherings.
The capital has more than half of Indonesia's total coronavirus cases [Ed Wray/Getty Images]
11:45 GMT – Qatar reports 608 new coronavirus cases
Qatar's health ministry reported 608 new cases of coronavirus, taking its total number of infections to 7141.
The ministry also confirmed the recovery of 75 COVID-19 patients and one death over the last 24 hours. وزارة الصحة العامة✔@MOPHQatar
آخر مستجدات فيروس كورونا في قطر
Latest update on Coronavirus in Qatar#سلامتك_هي_سلامتي #YourSafetyIsMySafety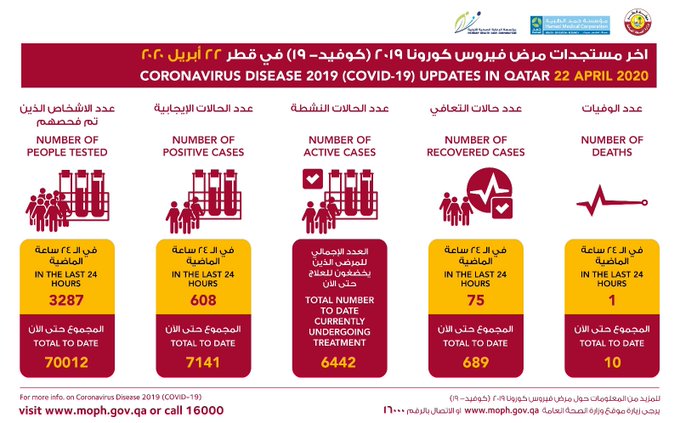 446Twitter Ads info and privacy355 people are talking about this
11:30 GMT – 69 NHS staff members have died of coronavirus
A total of 69 people who worked for Britain's National Health Service (NHS) have died of COVID-19, while the number of staff in care homes for the elderly who have died from the disease is not known, Foreign Minister Dominic Raab said.
The government is under pressure over accusations it has failed to deliver personal protective equipment to all the medical and care staff who require it.
"We've delivered 1 billion items of personal protective equipment and tens of millions have been distributed via the devolved administrations (semi-autonomous governments of Scotland, Wales and Northern Ireland)," Raab told parliament.
Read moreabout why PPE is important.
NHS staff are seen inside the new NHS Louisa Jordan hospital which is now ready to take its first coronavirus patients in Glasgow, United Kingdom [Jeff J Mitchell/Getty Images]
11:20 GMT – Trump to sign executive order on immigration today
President Donald Trump said in a tweet he would sign an executive order later on Wednesday "prohibiting immigration" that he has said would protect United States workers amid the economic fallout from the coronavirus outbreak.
As of late Tuesday, some questions remained unanswered as the Trump administration continued to work on the order, which the Republican president has said would temporarily suspend immigration to the US. Donald J. Trump✔@realDonaldTrump
I will be signing my Executive Order prohibiting immigration into our Country today. In the meantime, even without this order, our Southern Border, aided substantially by the 170 miles of new Border Wall & 27,000 Mexican soldiers, is very tight – including for human trafficking!167KTwitter Ads info and privacy51.1K people are talking about this
11:15 GMT – Pandemic to drive carbon emissions down 6 percent: WMO
The coronavirus pandemic is expected to drive carbon dioxide emissions down by six percent this year, the head of the World Meteorological Organization (WMO) said, in what would be the biggest yearly drop since World War II.
"This crisis has had an impact on the emissions of greenhouse gases," WMO Secretary-General Petteri Taalas told a virtual briefing in Geneva.
"We estimate that there is going to be a six percent drop in carbon emissions this year because of the lack of emissions from transportation and industrial energy production."
Thailand virus curbs: Tourist industry hit as visitors stay away
11:00 GMT – Stephen Hawking's ventilator donated to UK hospital
The family of the renowned British physicist Stephen Hawking has donated his ventilator to help treat hospital patients with novel coronavirus, it said.
Hawking died in 2018 aged 76 after a glittering career dedicated to unlocking the secrets of the universe, despite a life-long battle with a severe form of motor neurone disease.
His daughter, Lucy, said the ventilator he used has been given to the Royal Papworth Hospital in Cambridge, eastern England, where he received medical care during his life.
Hawking sits on stage during an announcement of the Breakthrough Starshot initiative with investor Yuri Milner in New York in 2016 [File: Lucas Jackson/Reuters]
10:30 GMT – Ukraine extends coronavirus quarantine until May 11
Ukraine extended strong quarantine measures till May 11, hoping then to ease restrictions if there is a reduction in coronavirus cases, Prime Minister Denys Shmygal said.
Ukraine reported a total of 6,592 people infected as of April 22, including 174 deaths and 424 recovered.
10:20 GMT – Israel stops testing samples coming from Gaza
Israel's defence minister has cancelled an initiative taken by the army for coronavirus testing on samples coming from the blockaded Gaza Strip, an Israeli newspaper reported.
The Israeli army recently announced an initiative to perform 50 coronavirus tests a day on samples from the Gaza Strip.
But the Israeli government cancelled the initiative, the daily Maariv reported, adding Defence Minister Naftali Bennett was not aware of the army's initiative due to a "lack of communication".
10:10 GMT – 'Un-American': 400,000 N95 masks 'just sitting' on loading dock
A US medical supply company is questioning the legality of federal seizures of N95 respirator masks destined for medical workers amid the coronavirus pandemic.
George Gianforcaro, owner of Delaware-based Indutex USA, told the New York Daily News the Federal Emergency Management Agency confiscated 400,000 masks in two imported shipments meant for his US customers.Al Jazeera English✔@AJEnglish
"Keep your voice down."

President Trump berated a female CBS reporter when questioned over his #coronavirus response.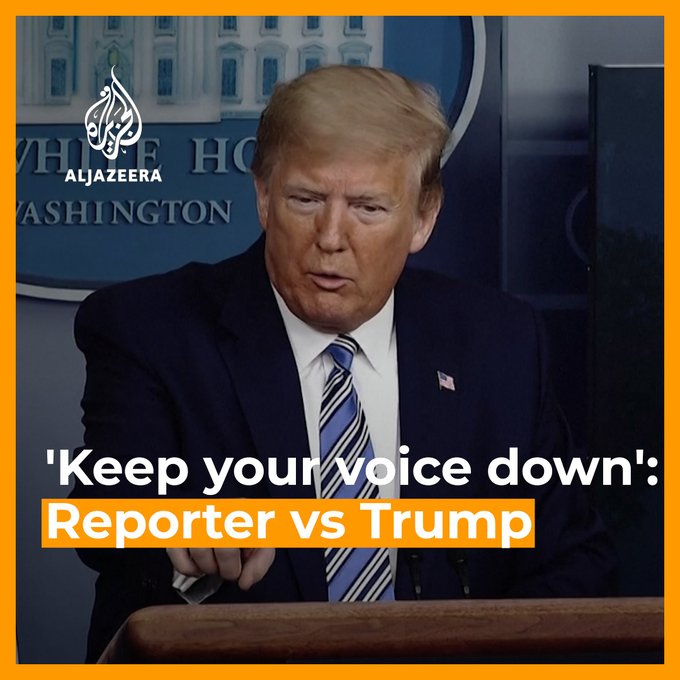 1,200Twitter Ads info and privacy720 people are talking about this
He said the masks, which arrived in separate shipments on April 6 and April 19, are still being held at John F Kennedy International Airport, apparently stranded in limbo as federal officials work out where they should go next.
"The product is just sitting on a loading dock at JFK. They want to charge me $3,000 a day to store it there. I said, 'I'll just come pick it up then.' They said, 'No, it's not released.' It's un-American. It's horrible," Gianforcaro said.
10:05 GMT – Germany approves first trial of COVID-19 vaccine candidate
Germany's vaccines regulator approved human testing of a potential vaccine against the COVID-19 virus developed by German biotech company BioNTech.
The trial, only the fourth worldwide of a preventive agent targeting the virus behind the global pandemic, will be conducted on 200 healthy people aged between 18 and 55 in the first stage, and on further people, including those at higher risk from the disease, in a second stage.
BioNTech said it was developing the vaccine candidate, named BNT162, together with its partner, pharma giant Pfizer.